Well, I went to Woolwinders on Sunday, and it's a place that DEFINITELY will need a return visit or 10. Great store, friendly people, free wine to enhance the shopping experience. :) Here's the pretty stuff that came home with me: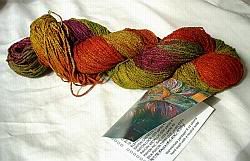 A skein of
Blue Heron
Petite Rayon Ric Rac in "Fall".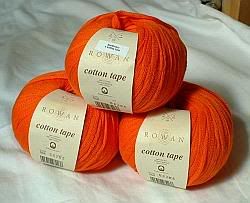 3 balls of Rowan Cotton Tape in 558 "Sunburst" (aka Radioactive Orange).
I was just going to get the Blue Heron yarn, but I kept going back over to this stuff. This color, specifically. After picking it up and putting it back about 5 times, I decided to just get it (orange was included in the St. Patrick's Day 15% off sale, after all).


So, yesterday, I was going through my closet looking for something to wear to work, and came across an FO that I had pretty much forgotten about: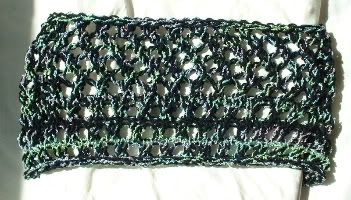 It's a cowl that I made shortly after discovering yarnovers. (I think "cowl" is the right term... a short scarf that's sewn up into a circle, and you wear it around your neck? Cowl, yes? I feel like there's another word that I can't think of for the life of me.) It's Wool in the Woods Double Kiss in "Oslo" and some black TLC Cotton Plus. It served as my scarf yesterday. :)
I have recently laid claim to my mother's sewing machine. She's had the thing for as long as I can remember, and has used it... almost never, I think? She herself admits that she had all these grand ideas about learning how to sew, and then never sewed anything. Back in January, she told me she was getting rid of the machine because it was just taking up room in her closet, and thought that I might want it because I do craft stuff. Heck, yeah, I'll take a sewing machine. I got it back here after my visit there a couple of weeks ago, and I had to laugh when I saw that the bobbin thread left in the machine was some royal blue thread from the last time I used it (back in high school). When I say my mother never used it, I mean it. This bobbin thread has been in there for 10 years. Anyway, I was playing around with the machine today, and it turns out that I actually remember some stuff from my 7th grade Home Ec class. As of right now, I'm having some tension problems. One setting is way too loose, but the next setting up breaks the thread. This could be due to the fact that the thread I was experimenting with is, shall we say, not of the highest quality. I need to buy some better thread and try again.
Incidentally, Sara Moulton is unequivocably forgiven for the mac & cheese casserole snafu that I had a couple of weeks ago. I tried another of her recipes last night, one for a braised beef with onions and tomatoes and peppers and olives and lots of other stuff. So SO good... although I'm very glad that I made a half recipe, because I would have had way too many leftovers for just me if I had made it with the full 2.5 pounds of beef.