It was the best of socks, it was the worst of socks...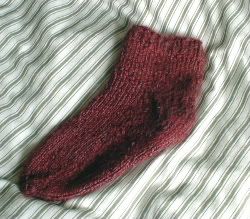 About a year ago, I took
SimpleChic
by Jill Eaton out of the library. I had only been knitting for a few months, and I wasn't really "struck" by anything (you know, that "I have to make that immediately" feeling); a lot of the patterns weren't really my taste. However, there was a pattern for bulky weight socks, "Clog Sox", which I found interesting. I hadn't done socks yet, and thought that starting out with a bulky weight pattern would be make it more likely that I wouldn't get frustrated (I was vaguely opposed to needles smaller than 8s... ah, those were the days).
So, I hauled out a skein of LB Homespun from my piddly little stash and made a "sock", which turned out to be a slipper (as in, there's no way I'm wearing it with shoes). And then Second Sock Syndrome hit. I liked my one slipper enough -- very warm and soft -- but I couldn't bring myself to do a second one.
That is, until this week: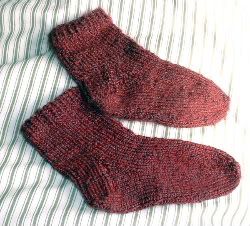 The first sock, by the way, was my first-ever experience with Kitchener stitch. I don't recommend Kitchener stitch with Homespun, unless you want every subsequent experience with Kitchener to be super-easy by comparison. Now I'm all, "Kitchener? Woohoo, at least I'm not using Homespun!"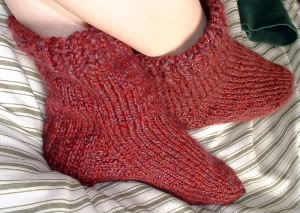 The pictures don't do them justice. These things are a dark fuschia-pink. And now that I think about it, every pair of slippers I've ever owned has been some variety of pink. Weird.