(Clicking on pictures will open them in a new window)


I have a fairly small stash. Some people have a stash room; I have a stash corner: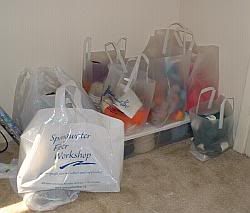 Underneath the shopping bags (all of which are yarn), you can see a clear Rubbermaid underbed storage box. My stash used to fit in that thing. My ENTIRE stash. Not so much anymore.
As for what's in the bags and the box...
8 skeins of Elsebeth Lavold Silky Wool in "Shocking Pink"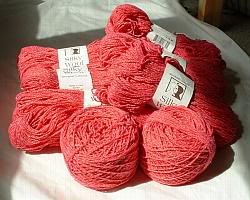 I can't get this color to photograph quite right. It looks more orange in the picture than it actually is (if you've ever seen the hot pink Silky Wool, that's what this is). I think this is going to become some kind of cardigan.
5 balls of Elsebeth Lavold Cotton Patine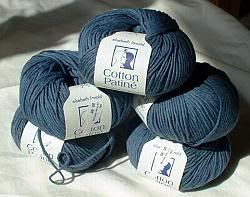 6 balls of Elsebeth Lavold Cable Cotton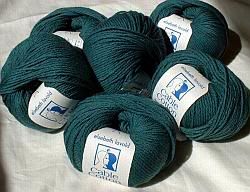 Blue Heron Yarns Petite Rayon Ric Rac, "Fall"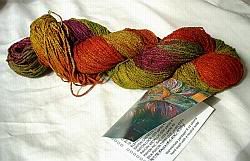 I have to find something awesome to do with this. The problem is that I'm not really a "shawls and wraps" person. I have a Clapotis that I love... and I've never worn it. So, any wrap that I make for myself is probably going to be a waste of yarn. Anyway, this yarn is gorgeous, so I have to find something to do with it that I'll actually wear.
4 skeins of Debbie Bliss Cotton Cashmere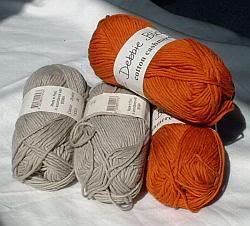 I used some pink Cotton Cashmere for my mom's Branching Out, and really liked it. It was splitty, but it's cotton, so that's not odd. When I saw more of the Cotton Cashmere on sale at Stitch DC, I had to get it. And that orange there is NOTHING compared to this:
3 balls of Rowan Cotton Tape, "Sunburst"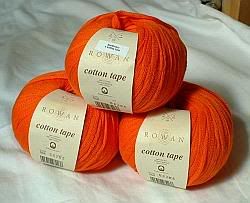 I found a pattern online for a very cute dropstitch shrug that calls for 3 balls of Rowan Cotton Tape, so I actually know what I'm doing with this. I just need more tank tops that'll go with it, since not many colors work well with neon orange. :)
5 hanks of Crystal Palace Waikiki, "Tidepool"

Ah, THERE'S my normal color palette. Why do I keep buying bright orange yarn? Am I trying to make up for my subdued personality? Is there a secret wild woman in me that I don't know about yet? Or should I not be psychoanalyzing my yarn purchases?
My dyeing experiments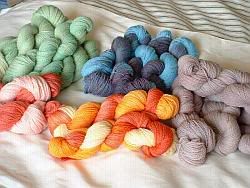 I had some fun here. Still trying to decide if this is all for me, or if some of it may get swapped or eBay-ed. I LOVE the way they turned out, so chances are good that they're staying with me.
3 hanks of Wool in the Woods Frizee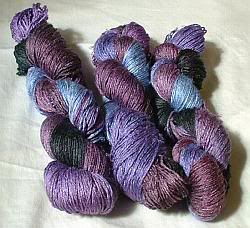 If you look at my banner and button, you'll notice that this stuff looks very familiar. This is one of the best smelling yarns I have. It smells like detergent, but in a good way.
3 hanks of Wool in the Woods Seeds 'n Such, "Bashful"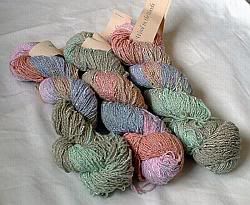 Seeds 'n Such is the yarn I used for my Clapotis. It's a thick/thin cotton thread wrapped with a slubby rayon thread, and is a bit of a pain to work with. However, it's gorgeous when knitted, so after completing my Clapotis, I bought more of the same yarn in a different colorway.
3 hanks Wool in the Woods Willow Hill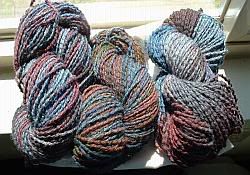 This is the yarn I got at the Annapolis knitting group last week. (Yes, I have a Wool in the Woods problem.) It's all dark, muted colors, and I can't wait to find something to do with it.
6 skeins Misti Alpaca Worsted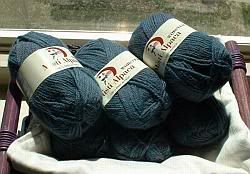 This is my latest acquisition. Since I haven't put any other pictures of it on the blog yet, here's a closeup that shows off the colors: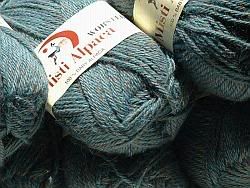 2 balls of Schoeller Stahl Portofino Souffle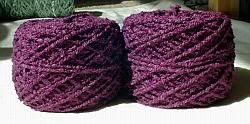 I have fuzzy purple pants, why not fuzzy purple yarn?
4 skeins of Lion Brand Chenille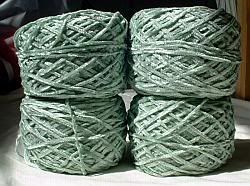 The thing about Lion Chenille that amuses me is that they say that it's not recommended for knitting. Crocheting is fine, but knitting... no. Maybe it worms a lot, who knows. I will probably be knitting with it (I
can
crochet, but I usually don't).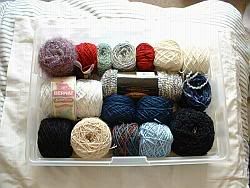 I have this picture up
on Flickr with nifty mouseovers
, if you're dying to know what everything in there is.
I also have all of these pictures set up as a Flickr
FYS set
.