I have minor yarn porn that I should post, now that I'm not preoccupied with the Knitting Olympics: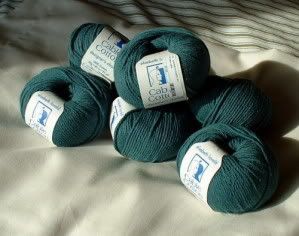 That's 6 balls of
Elsebeth Lavold Cable Cotton
, color 7 "Peacock" that I got during an outing to Stitch DC
. I don't know what project they'll end up being; nothing huge, because it's only about 600 yards.


I got two new cookbooks yesterday, I'm in a mail-order cookbook club, and most of the time their featured selections (you know, the ones they send if you don't tell them not to) are books that I don't really want. The February selections, however, were
Sara's Secrets for Weeknight Meals
, and
The Best American Recipes 2005-2006
. I'm absolutely in love with the
Best American Recipes
series (for starters, my standard cheese cracker recipe came from the '03-'04 book, as did a fantastic gingerbread cider cake recipe). As soon as I saw that the new one was available through the book club, along with the new Sara Moulton, I was quite happy. They showed up yesterday, and after looking through both of them, I want to make almost everything (nothing with nuts or fish for allergy reasons, of course).