Last night, I had this terrible brownie craving. It was awful. I needed chocolate, and I needed it right away... I love chocolate and all, but I very rarely get full-on chocolate cravings that will not be denied. I pulled out my copy of

I'm Just Here For More Food

by Alton Brown... ah, Alton. Every single thing that I have made from this book has been awesome (the "Superior Saltine" is a personal favorite). I turned to the "chocolate" listing in the index, and saw that yes, there was a brownie recipe... but there was also something called "Chocolate Muffins #7". I looked over the recipe for the muffins, saw that I had everything on hand (a

big

plus), AND saw that it was ridiculously easy and would have my chocolate fix handled in under half an hour... that was it.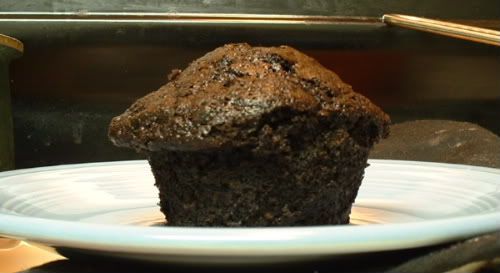 These things are
really
good. I used Hershey's Special Dark dutch-process cocoa powder, which resulted in muffins that are almost black. I haven't loved this cocoa powder in hot chocolate (which tends to be my main reason for buying cocoa powder), and to be honest, I've been trying to find ways to use up what I have. The stuff would be perfect for making faux Oreo cookies, because that's what it tastes like: Oreo-cookie chocolate, which is apparently a result of being dutch-processed to death (thanks, Google). The Special Dark worked well in this recipe. The muffins came out dense and moist and chocolaty, not too sweet, with a nice texture... I can't imagine how fantastic they would be with a higher quality cocoa powder. Oh, and they freeze well... I'd assume. I totally did NOT just have one that I froze last night (*brushes chocolate crumbs off her sweater*)

Let's see: easy, fast, and really good... I'll be making these again, no question.



Updated

: I made a couple of recipe alterations that I should own up to. First, AB calls for buttermilk. I have never had buttermilk on hand EVER, so I used skim milk. No adding vinegar or lemon juice, just plain skim milk. Also, I left out the cup of chocolate chips AB calls for. It turned out to be a good move. Not only did I have 12 muffin cups filled

to the brim

with muffin batter, but I also had enough batter leftover to have easily filled another muffin cup. So, another cup of stuff in the batter would have simply resulted in another cup of batter that wouldn't fit in the muffin tin. Yes, it would leave more to lick off the spoon, but trust me, there was plenty of that already. Not that I'm encouraging that kind of behavior...

Work continues on my Knitting Olympics project. I have another 2" to do on the body, and then I can start binding off for the armholes. Yay! Binding off--something different! Round after round of 180 stitches of seed stitch... [knit 1, purl 1] 9,090 times (total of 18,180 stitches so far). There have been some moments where it's been mind-numbing, and now there are only another 20 or so rounds left to go before I can start doing something different. Woohoo!